Akston's Ambifect™ Product Pipeline
Akston has used its Ambifect™ Fc-fusion protein platform to develop a diverse pipeline of therapeutic candidates for indications in both human and animal health. It has licensed a COVID-19 vaccine (AKS-452) to Biolexis, a Strides Group Company, and also licensed two once-a-week veterinary insulins (AKS-321d and AKS-425c) to Dechra Pharmaceuticals, PLC. Akston also has active development programs in human long-acting insulins, Type 1 diabetes prevention, and oncology.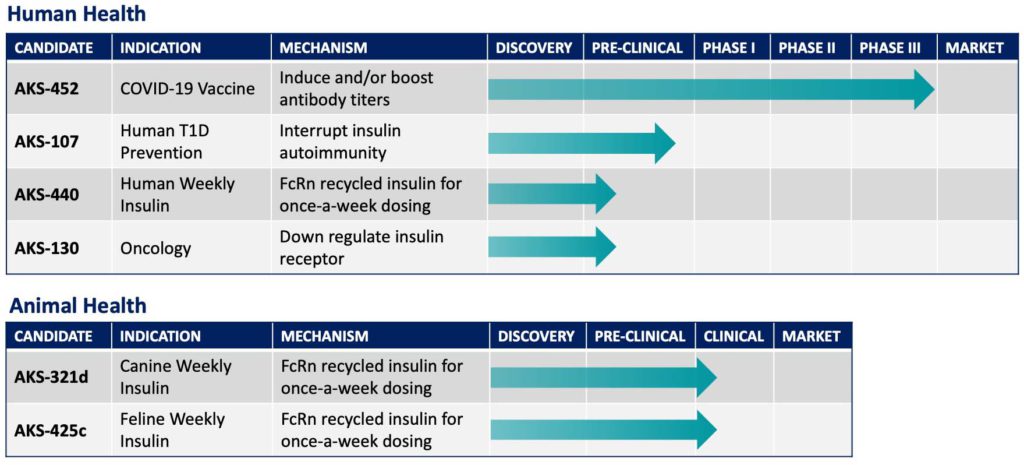 ---
COVID-19 Vaccine – AKS-452
AKS-452 is a CoV-2 protein subunit vaccine designed to induce a Th1/Th2 mixed immune response in patients against the Receptor Binding Domain (RBD) of the novel coronavirus spike protein. It has been engineered to use standard, low-cost, antibody manufacturing techniques such that a single production line could produce over one billion doses per year. Unlike other vaccines that must be kept refrigerated or even deep-frozen for transport and storage, AKS-452 has been shown to be shelf-stable for at least six months at 25° Celsius (77° Fahrenheit) and maintains its potency for one month at 37° Celsius (99° Fahrenheit). A Phase II/III clinical study in India included 1,600 healthy volunteers – 100 in an open-label bridging study and 1,500 in a double-blind, placebo-controlled trial of AKS-452. The results showed no significant safety issues and a 91% seroconversion rate at Day 56. LEARN MORE
---
Once-A-Week Veterinary Insulins – AKS-321d and AKS-425c
Akston has partnered with Dechra Pharmaceuticals PLC to commercialize AKS-321d and AKS-425c, which are one-a-week insulin therapies for dogs and cats respectively. Both are drop-in replacements for the current twice-a-day veterinary insulin treatments. They utilize a specially-designed insulin to increase glucose-lowering bioactivity and a modified dog Fc or cat Fc, which enables a long half-life through FcRn recycling, with no immune system activation. Several field studies of these insulins have demonstrated successful multi-month treatment of dozens of client-owned diabetic dogs and cats. LEARN MORE
---
Type 1 Diabetes Prevention – AKS -107
Akston has developed AKS-107, a designer Fc-insulin fusion protein, to interrupt the key processes leading to insulin autoimmunity and Type 1 Diabetes. It utilizes a mutated insulin moiety which does not lower blood glucose and an Fc region to direct the human immune system to delete targeted B cells. Akston has partnered with the Hemsley Charitable Trust, which is supporting AKS-107 GMP manufacturing and the National Institutes of Health (NIH) for IND-enabling safety pharmacology and toxicology studies. LEARN MORE
---
Once-A-Week Human Insulin – AKS-440
Building on the experience gained from developing ultra-long acting veterinary insulins, Akston has developed a novel human insulin candidate – AKS-440. This is intended to be a once-a-week injectable diabetes therapy that uses a modified human Fc region paired with a designer insulin. It is currently in pre-clinical development.
---
Oncology Therapy – AKS-130
AKS-130 is an insulin-Fc fusion protein designed to lower blood glucose levels, without causing clinical hypoglycemia, in order to target the tumor cell Insulin Receptors. It has been found to downregulate Insulin Receptor expression in models of colorectal cancer and malignant melanoma. It is currently in pre-clinical development.