Company Overview
Located in Beverly, Massachusetts, Akston Biosciences Corporation leverages its novel fusion protein platform to develop and manufacture new classes of biologics, including vaccines, ultra-long-acting insulins, and autoimmune disease therapies. Founded by the team that developed the world's first clinical glucose-responsive insulin at SmartCells, Inc., Akston's COVID-19 vaccine candidate is in Phase II trials in the Netherlands. It has partnered with Dechra Pharmaceuticals PLC to commercialize once-a-week canine and feline insulin therapies. The company employs 35 people, has over 3,500 ft2 of research laboratory space and a 12,400 ft2 GMP clean room biologics manufacturing facility.
Akston has built a diverse pipeline of therapeutic candidates for use in both human and animal health. The human candidates cover a range of disease indications, while the animal candidates are already in clinical testing: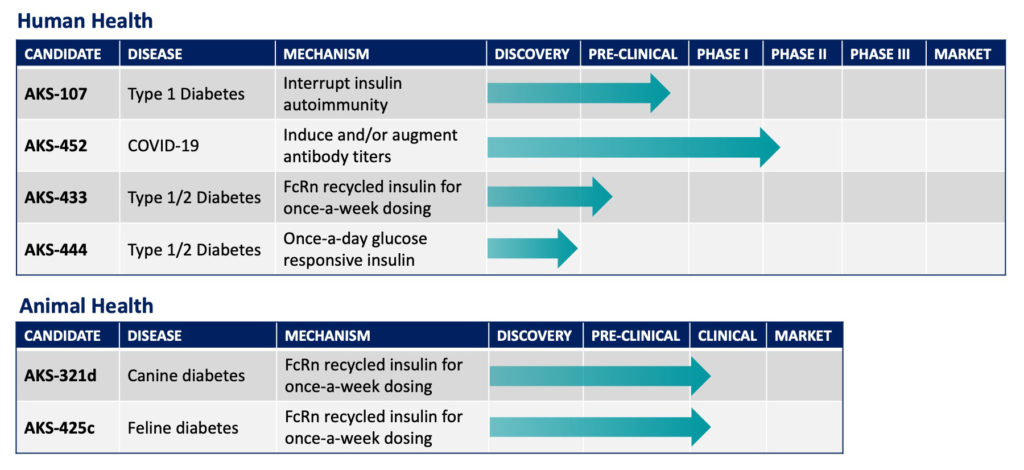 Platform
Akston uses a proprietary Fc-fusion platform to develop its therapeutic candidates, which can take advantage of many different biological mechanisms-of-action. This "Swiss-army" platform for multi-functional protein engineering supports tailored interaction with the immune system, delivery of customized agents for metabolic disease, and increased half-life. The fully-biologic therapeutics derived from Akston's platform can be manufactured at scale using established techniques. LEARN MORE
Type 1 Diabetes Prevention – AKS -107
Akston has developed AKS-107, a designer Fc-insulin fusion protein, to interrupt the key processes leading to insulin autoimmunity and Type 1 Diabetes. It utilizes a mutated insulin moiety which does not lower blood glucose and an Fc region to direct the immune system to delete targeted B cells. Akston has partnered with the Helmsley Charitable Trust, which is supporting AKS-107 GMP manufacturing and Sanford Research, Inc., a South Dakota not-for-profit corporation, which will conduct the Phase 1 clinical trial. It has also received significant support from the National Institutes of Health (NIH) to support IND-enabling safety pharmacology and toxicology studies. LEARN MORE
COVID-19 Vaccine – AKS-452
AKS-452 is a novel, biologically engineered SARS-CoV-2-RBD-Fc fusion protein designed to induce or boost a Th1/Th2 mixed immune response in patients against the Receptor Binding Domain (RBD) of the novel coronavirus spike protein. Preclinical animal studies have shown robust, neutralizing antibody production at microgram doses. This is the most advanced COVID-19-specific Fc fusion protein vaccine in commercial development and the inherent nature of the construct provides a unique combination of benefits compared to nucleic acid, viral-vectored, and inactivated virus vaccines. LEARN MORE
Veterinary Insulin Therapies – AKS-321d and AKS-425c
Akston is partnered with Dechra Pharmaceuticals PLC to commercialize AKS-321d, a one-a-week insulin therapy for dogs that is a drop-in replacement to the current twice-a-day insulin treatment. It utilizes a specially-designed insulin to increase glucose-lowering bioactivity and a modified dog Fc, which enables a long half-life through FcRn recycling, with no immune system activation. Multiple field studies have demonstrated successful multi-month treatment of dozens of client-owned diabetic dogs. AKS-425c, the variant for cats, which is designed to provide substantially the same performance, is currently in field testing in client-owned diabetic cats. LEARN MORE
Human Insulin Therapies – AKS-433 and AKS-444
Using the knowledge gained from its development of long-acting veterinary insulins, Akston has developed two novel human insulin candidates. AKS-433 is a once-a-week injectable therapy that uses a modified human Fc region paired with a designer insulin. AKS-444 incorporates proprietary saccharides to provide true once-a-day glucose-responsive performance. Both candidates are currently in pre-clinical development.
---