Akston Biosciences Doses First Volunteers in Phase II/III Clinical Trial of Low Cost, Shelf Stable COVID-19 Vaccine
1,500 healthy volunteers to participate in a Phase II/III double-blind placebo-controlled study in India
Study results to be submitted for Emergency Use Authorization (EUA)
Vaccine is shelf stable for over six months at room temperature at 25° Celsius (77° Fahrenheit) and maintains potency for one month at 37° Celsius (99° Fahrenheit)
BEVERLY, Mass., and BANGALORE, India – April 7, 2022 – Akston Biosciences Corporation, a developer of new classes of biologic therapeutics, announced today that the first volunteers in a Phase II/III clinical study of AKS-452, its low cost, shelf stable protein subunit COVID-19 vaccine, were dosed in India. India's Central Drugs Standard Control Organization (CDSCO) approved the double-blind, placebo-controlled trial, initiated by Ahmedabad-based Veeda Clinical Research Limited, whose data will be submitted in an application for Emergency Use Authorization (EUA).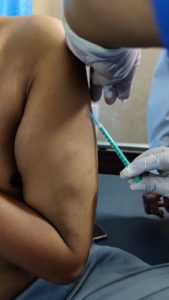 The first volunteer receives Akston Bioscience's COVID-19 vaccine, AKS-452, as part of a Phase II/III double-blind placebo-controlled study in India. The protein-based vaccine is shelf-stable for at least six months at room temperatures up to 25°C (77°F), and does not include mRNA technology, viral vectors, or a weakened SARS-CoV-2 virus. (image left)

The multicenter trial will complete the enrollment of 1,500 healthy volunteers, age 18 and older, who will receive two 90 µg doses 28 days apart. Under the supervision of six principal investigators (Pravin Dinkar Supe, M.D.; Krishna Giri, M.D.; Himanshu Pophale, M.D.; Prakash Shinde, M.D.; Shrikant Deshpande, M.D.; and Kuntal Shah, M.D.), the dosing of healthy volunteers will be completed by April 15, 2022.
Of the 1,500 healthy volunteers, 1,125 will receive the two-doses of vaccine, with the first dose including AKS-452 and an adjuvant, which primes the body's immune response, while the second dose will consist only of AKS-452. The remaining 375 will receive two doses of placebo with the first dose including placebo and the adjuvant, while the second dose will consist only of placebo. The primary objective of the study is to evaluate the safety, tolerability and humoral immunogenicity profile (i.e., SP/RBD-specific IgG titers) of AKS-452 at day 56, following a two-injection regimen in a combined bridging and a Phase II/III clinical study. Interim results of the Phase II/III trial in India are expected to be available in June 2022. This follows a successful 100-volunteer open-label bridging study by Veeda, which began in Nov. 2021.
A recent Phase II clinical trial conducted at the University Medical Centre Groningen (UMCG) in the Netherlands showed a robust 98% seroconversion response after either two 45 μg doses (100%) or a single 90 μg dose (96%) of AKS-452 in healthy adults at 56 days. It was well-tolerated with a safety profile comparable to approved vaccines.
Additional trials are also being pursued to qualify AKS-452 as a booster to itself or to other approved vaccines.
Manufacture and Distribution Partnership
Akston recently signed a licensing, manufacturing and commercialization agreement with Strides Group subsidiary Biolexis. Under the agreement, Biolexis gains the right to manufacture and commercialize AKS-452, branded as AmbiVax-CTM in India, and over 130 countries in Asia, Latin America, and Africa, largely covering the low-and-middle-income countries (LMICs). The partnership will leverage the capabilities of Strides Group, a global pharmaceutical company headquartered in Bengaluru, India. Strides has an "in Africa for Africa" strategy and will offer the vaccine in countries where it has a deep market presence and established relationships.  
"This clinical trial represents an important step in the development of protein-based COVID-19 vaccines," said Todd Zion, Ph.D., President & CEO of Akston Biosciences. "We are working closely with Strides Group, which will manufacture AKS-452 at scale, so that it can be quickly rolled out after receiving an EUA. We look forward to being able to supply the vaccine to countries that need an affordable and effective way to protect their populations during this worldwide pandemic."
About AKS-452
AKS-452 is a first-of-its-kind, protein subunit, thermostable COVID-19 vaccine intended specifically for those most in need. It is shelf stable for six months at room temperatures (25° Celsius or 77° Fahrenheit) and maintains its potency for one month at 37° Celsius (99° Fahrenheit). 
AKS-452 does not include mRNA technology, viral vectors, or a weakened SARS-CoV-2 virus and has been engineered to use established, low-cost antibody manufacturing techniques, such that a single 2,000L production train could be capable of producing over one billion doses per year.
AKS-452 is designed to induce a Th1/Th2 mixed immune response in patients against the Receptor Binding Domain (RBD) of the novel coronavirus spike protein. As the primary locus for infection, the RBD is highly conserved among mutated forms of the virus. Studies on AKS-452 have demonstrated robust antibody neutralization of variants, including Delta and Omicron, and it has been evaluated in safety and efficacy studies in the Netherlands and India comprising hundreds of subjects. 
AKS-452 has the potential to surmount the challenges posed in countries where a significant population lacks dependable access to vaccines as a result of insufficient cold chain infrastructure. AKS-452 could offer a flexible, reliable, and economically viable alternative in these regions, supporting accelerated vaccination of those most in need. 
About Akston Biosciences
Akston Biosciences Corporation leverages its novel fusion protein platform to develop and manufacture new classes of biologics, including vaccines, ultra-long-acting insulins, and autoimmune disease therapies. Founded by the team that developed the world's first clinical glucose-responsive insulin at SmartCells, Inc. (sold to Merck & Co.), Akston has partnered with Dechra Pharmaceuticals PLC to commercialize once-a-week canine and feline insulin therapies. It operates a GMP biologics manufacturing cleanroom facility and research laboratory at its Beverly, Mass. location. Additional information is available at akstonbio.com. 
About Veeda Clinical Research Limited
Veeda Clinical Research Limited ("Veeda") is one of the largest independent, full-service clinical research organizations, headquartered in Ahmedabad, India. Veeda offers a range of bioequivalence studies and early and late phase clinical trials. Veeda has successfully completed several regulatory inspections and is approved by USFDA, UK MHRA, ANVISA (Brazil), and WHO. Veeda has experience in conducting complex clinical studies. Visit https://www.veedacr.com/
---
Contact:
Linda Pendergast-Savage
Birnbach Communications for Akston Biosciences
1-508-224-7905
lpendergastsavage@birnbachcom.com
Siddharth Baad
Veeda Clinical Research Limited
+91-9620213300
siddharth.b2274@veedacr.com