AKS-452
This is a novel, biologically engineered SARS-CoV-2-RBD-Fc fusion protein designed to induce or boost a Th1/Th2 mixed immune response in patients against the Receptor Binding Domain (RBD) of the novel coronavirus spike protein. Preclinical animal studies have shown robust, neutralizing antibody production at microgram doses. This is the most advanced COVID-19-specific Fc fusion protein vaccine in commercial development and the inherent nature of the construct provides a unique combination of benefits compared to nucleic acid, viral-vectored, and inactivated virus vaccines.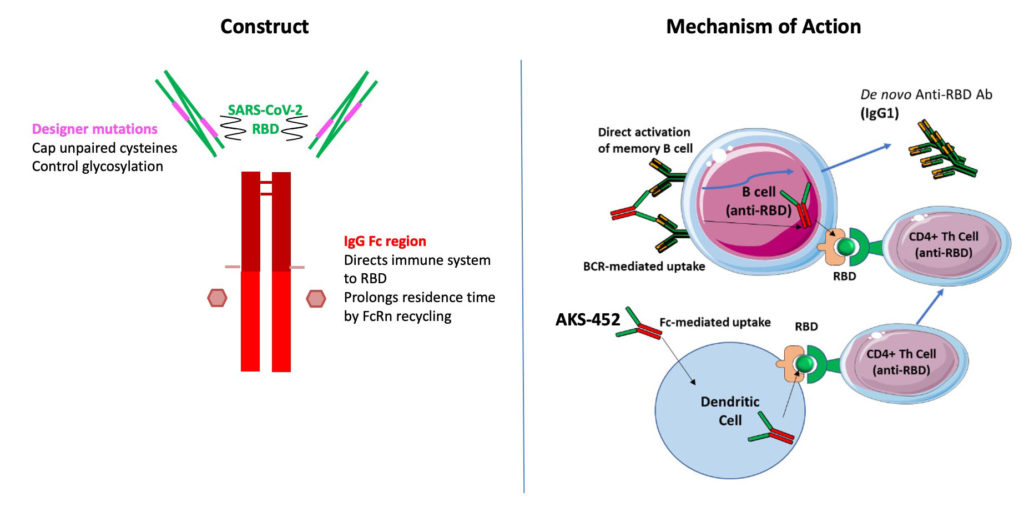 Features
Full Receptor Binding Domain (RBD) presented to immune system
Glycosylated Fc activates immune system response
Designed to induce and/or augment antibody titers in patients
Animal studies show robust, neutralizing antibody production
Production uses established, high-volume methods
Intended to be effective at microgram doses
Disease and therapy
Currently, social distancing and the recurring, widespread shutdown of human activity are the main tools to prevent the spread of the SARS-CoV-2 virus and thus minimize the impact of the COVID-19 pandemic. A full return to normalcy will only occur once there is a sufficient level of immunity to the virus conferred to the human population. The only practical way to do this and ensure that the pandemic does not recur, is by vaccinating a very high proportion of the population, everywhere in the world, and to keep the immunity level high for an extended period of time.
Akston has directed significant resources and use of its Fc-fusion platform to provide a practical solution to the problem of vaccinating and, if need be, boosting the immunity of people all over the world against the virus. Akston's team realized early on that its fusion protein platform could be used to design a vaccine that can be transportable at ambient temperatures, produced at very low cost, and suitable for repeated dosing if immunity wanes.
Unlike other vaccines that must be kept refrigerated or even deep-frozen for transport and storage, AKS-452 has been shown to be shelf-stable for weeks at up to 37 degrees Celsius (95°F). This can greatly simplify distribution and is critically important for vaccinating the billions of people not served by sophisticated and costly cold-chain transportation. Akston has engineered AKS-452 to use conventional antibody manufacturing techniques, such that with multiple batches over one year, a single 2,000-liter production train would be capable of producing over one billion doses.
Development status and plans
Akston has undertaken an urgent, fast-track development and clinical evaluation of AKS-452. It has produced the drug substance for the GLP safety and toxicology studies and the Phase 1 and Phase 2 clinical studies in its GMP manufacturing facility in Beverly, MA. It has partnered with TRACER Europe B.V., which will support the Phase 1 and 2 clinical trials in the Netherlands. TRACER is providing regulatory services, oversight of the local manufacturing contractor that filled and finished the clinical batches, as well as study preparation and clinical site management. Akston has established a strategic partnership with LakePharma, a US-based Biologics CRDMO with operations in CA, TX, and MA, to produce drug substance for the Phase 3 clinical trial as well as large-scale commercial manufacturing.