AKS-321d and AKS-425c
Akston has partnered with Dechra Pharmaceuticals PLC to commercialize AKS-321d and AKS-425c, which are one-a-week insulin therapies for dogs and cats respectively. Both are drop-in replacements to the current twice-a-day veterinary insulin treatments. They utilize a specially-designed insulin to increase glucose-lowering bioactivity and a modified dog Fc or cat Fc, which enables a long half-life through FcRn recycling, with no immune system activation. Multiple field studies have demonstrated successful multi-month treatment of dozens of client-owned diabetic dogs and cats.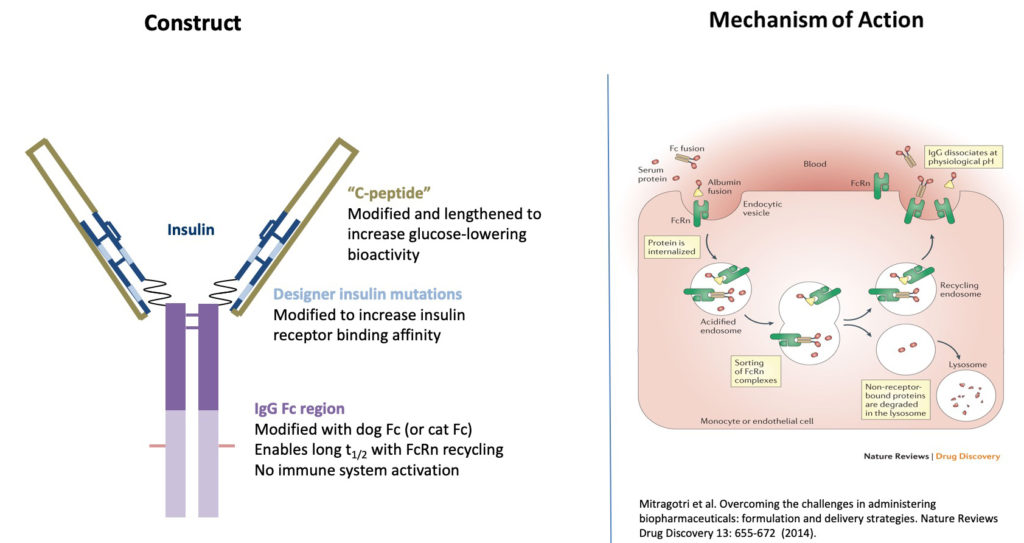 Features
Design balances FcRn recycling and bioactivity
Drop-in replacement for current therapies
Fc selected for species-specificity (dog and cat)
Fc modified to eliminate immune system activation
Once-a-week dosing with negligible hypoglycemia
Fully-biologic manufacturing
Disease and therapy
Approximately 80,000 dogs and 80,000 cats per year in the United States are diagnosed with diabetes, with a similar number in the European Union and an increasing number elsewhere. Current therapy is indicated for twice-a-day subcutaneous injection and owners generally find the treatment regimen to be onerous and error-prone. A significant number of animals are euthanized within one year of diagnosis. Akston's veterinary insulins, which are designed to provide better glucose control with once-a-week dosing, could provide a significant improvement that owners will welcome.
Development status and plans
Using its Ambifect™ Fc-fusion protein platform, Akston synthesized and tested over 100 ultra-long acting canine and feline insulin candidates to find leads that would provide proper glucose control with weekly dosing, would not activate the animal's immune system to produce neutralizing antibodies, and could be produced efficiently at commercial scale. Akston, working with several leading academic veterinary centers including the University of California – Davis, Tufts University, and the University of Georgia, mounted studies, together comprising dozens of client-owned animals, to test the final candidates.
Akston has signed license and supply agreements for its canine (AKS-321d) and feline (AKS-424c) insulins with Dechra Pharmaceuticals PLC. Akston's primary responsibilities in the commercialization programs are manufacturing development, preparation of CMC regulatory documentation, and commercial manufacturing. Dechra is responsible for the pivotal safety and efficacy studies, regulatory affairs and commercial sales. Dechra has successfully completed several POC studies at privately-owned veterinary practices, with client-owned diabetic dogs and cats.
Akston will use its biologics manufacturing facility to produce AKS-321d and AKS-425c drug substance for subsequent filling and finishing. A key impediment to the commercialization of veterinary biologics has been the high cost of candidate development and production. Akston has addressed this by employing a focused, efficient candidate selection and testing program with a production process and facility tailored to the task.