Akston's GMP manufacturing and laboratory
We operate a 20,000 sq. ft. production facility in Beverly, MA dedicated to Animal Health, where we develop and manufacture protein therapeutics. This includes a multi-kilogram-scale, Good Manufacturing Practice (GMP) biologics factory with a production-scale Process Development facility and a Quality Control (QC) laboratory, all under a state-of-the-art Quality Management System (QMS).
Our integrated development and manufacturing capabilities allow us to reduce the cost and time to market of our protein therapeutic candidates. We also serve as a Contract Development and Manufacturing Organization (CDMO) for Animal Health companies to provide development and manufacturing resources for their protein therapeutic candidates.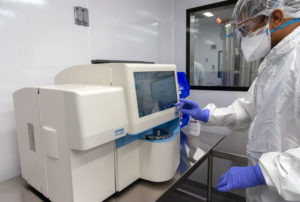 Our 10,000+ sq. ft. multi-cleanroom, low-bioburden, production area, utilizes only single-use sterile or sanitizable components. It is ideally suited for CHO cell production of antibodies and Fc-fusion proteins, that meet FDA-CVM and EMA requirements. The cleanrooms are capable of producing multi-kilogram-scale batches of cGMP drug substance using 1,000L and 200L bioreactors. It comprises an ISO7/Grade C cleanroom for inoculation, an ISO8/Grade D cleanroom for up- and down-stream processing, and an ISO8/Grade D cleanroom for post-viral processing. Before being dedicated exclusively to Animal Health, the cleanrooms were used to manufacture and release tens of millions of doses of COVID vaccine during the pandemic.
Our facility contains several Process Development suites operating at shake flask, 2L, 10L, 50L, and 200L bioreactor scales. It also includes a cGMP Quality Control laboratory for incoming raw material, in-process, release, and stability testing, as well as a cGLP laboratory for developing and validating bioanalytical assays. We also have research laboratory that is used to process, purify, and formulate therapeutic candidates for in vivo testing.