Akston's GMP manufacturing and laboratory
Akston operates nearly 20,000 square feet of GMP manufacturing and laboratory space located in Beverly, MA. This includes a multi-kilogram-scale, Good Manufacturing Practice (GMP) biologics factory with a production-scale Process Development facility and a Quality Control (QC) laboratory, all under a state-of-the-art Quality Management System (QMS).
The 10,000 square foot cleanroom facility is used for production of GMP drug substance, uses single-use processing equipment, and supports the clinical and commercial development of Akston's therapeutics. It includes an ISO7/Grade C cleanroom for inoculation, an ISO8/Grade D cleanroom for up- and down-stream processing, and an ISO8/Grade D cleanroom for post-viral processing.
Akston also operates a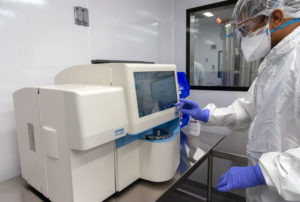 Good Laboratory Practices (GLP) laboratory for developing assays and analyzing clinical samples and a research laboratory that is used to process, purify, and formulate therapeutic candidates for in vivo testing. The research laboratory includes a rodent vivarium and analytical testing equipment for in-house studies.